Pilates Instructor Training – Polestar Comprehensive Studio & Rehabilitation Course Certification Bangkok – 26 & 27 of August 2017
Become a Pilates Teacher! Polestar Pilates Comprehensive programs provide in-depth instruction in Pilates principles, techniques and practice, using the Reformer, Trapeze Table, Chair, Ladder Barrel, Mat and small props.
The full Comprehensive Series comprises 8 parts constituting the core curriculum. They should be taken in the following order:
Gateway Pilates Online, Gateway Mat 1, Gateway Equipment, PP Online, Studio/Rehab Foundation, Studio/Rehab Intermediate, Studio/Rehab Advanced 1, Studio/Rehab Advanced 2. Successful completion of the series will enable participants the opportunity to gain qualification by sitting for the Studio or Rehab Comprehensive Exam.
Students can register for Gateway and Online modules separately (at extra cost) – please click on the "REGISTER NOW!" button to view your registration options.
The studio students and the rehab students will attend the course modules together, but the Rehab course will follow a specific track for physical therapists and medical professionals who wish to incorporate Pilates into their clinical practice.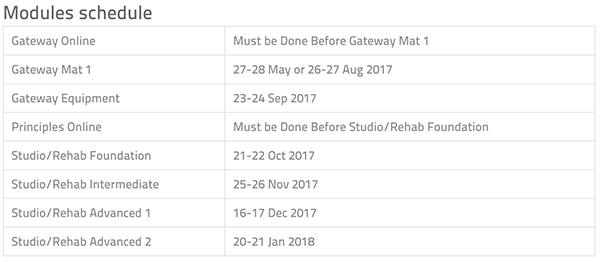 ---
Modules Schedule
For Polestar Students of Reformer or Mat please ask for more information to apply and skip some modules. If you are already Pilates instructor from another method please ask us for special conditions.

Information & Pricing
Location: The Balance Studio – Asoke Sukhumvit 21
When: 26 & 27 of August 2017
Time: 12PM – 9PM
Duration: 6 week end 16 hours per module
Language: ENGLISH & THAI
Polestar Pilates Comprehensive Studio & Rehab Certification
Get

 

Discount 5%

Now 31,308 HKD (Normal price 32,955HKD) Only

– 30 June 2017 – 

Excluded The Exam
***Please note that if you are using a bank transfer, you are responsible for all fees, if any.***
All the Polestar Pilates Books are included into the price – No additional cost
---
Objectives:
Upon completion, you will be able to:
Identify the principles of biomechanics, kinesiology, motor learning and neuromuscular facilitation that will help in the process of critical reasoning.
Designing training/treatment programmes aimed to problem-solve and meet client objectives.
Understand the precautions and contra-indications of Pilates exercises.
Programme design and exercise sequencing.
Verbal and tactile cueing combined with imagery to facilitate accurate execution of the movements.
Practical application of the repertoire through the use of case studies.
Exercise modifications for a variety of special populations.
---
Extra study hours for the Pilates instructor training Comprehensive in Bangkok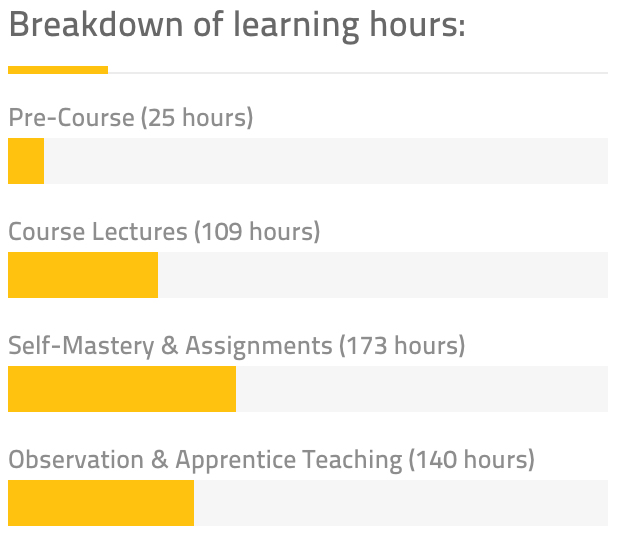 Requirements:
25 hours of private or group Pilates classes (recommended).

Basic knowledge of Anatomy or Anatomy Course.
For Rehab Course – Registered rehabilitation professional (MD, PT, OT, DO, DC, RN and Bach. Sp Sc. / Hum Movt. and Bach. Applied Science)
---
For Who?
Fitness instructors, rehabilitation practitioners and other movement teachers ( yoga, dance) who wish to teach Pilates using all of the apparatus found in a typical equipment studio.
The course has a specific track (Rehabilitation) for physical therapists and medical professionals who wish to incorporate Pilates into their clinical practice.
Career-changers. Please check with us to make sure you fulfill the requirements to enable you to take the course.
Content:
This course encompasses more than 150 of the original and evolved Pilates exercises as well as hundreds of variations and modifications. Our teaching method is interactive, helping you assess the whole person – physically, psychologically, emotionally and spiritually. The educational approach incorporates:
discussion forum
labs (doing, observing, teaching)
problem solving (utilizing case studies and deductive reasoning)
hands-on teaching (group and individuals)
assessment skills principles of neuro-linguistics (modeling, sequencing and structuring information, and maintaining appropriate learning states)
To graduate you will be required to complete, at your own expense, the required number of hours of observation, self-mastery and apprentice teaching. You will also need an educator/mentor to check-off all of the exercises listed in your course logbook for teaching and demonstration. See our FAQ for further information.
Pilates instructor Comprehensive

 – Exam

After the successful completion of the course and study hours, students are ready for the Exam of Polestar Pilates qualification. We will measure, validate and confirm your level competency as an effective Pilates teacher. The Polestar qualification is really respected all over the world.

Comprehensive Qualification Exam Price:  HKD (Not included in price of Mat Qualification)
Testimonials
Providing the best in Pilates Instructor education… and still exceeding expectations.
Read more about our students in more than 40 countries – click HERE
Polestar Pilates Continuing Education course provide to teachers how to take their skills to the next level by teaching and pushing them to think and be more creative.
All our course are conducted by highly regarded and international presenters. Our course are in English with a local translator, our book are also in English and Thai language.
---