Physiotherapist Bangkok & Pilates –
First

FREE

Consultation
นัดตรวจประเมินทางกายภาพและรับปรึกษาฟรี โดยนักกายภาพบำบัด
พิลาทิสเพื่อการกายภาพบำบัดทางระบบกระดูกและกล้ามเนื้อ เป็นการตรวจ วินิจฉัย และรักษา ภาวะผิดปกติหรือบาดเจ็บของระบบกระดูกและกล้ามเนื้อ เช่น อาการปวดคอ บ่า สะบัก ไหล่ติด ปวดหลัง ปวดสะโพก ปวดเข่า ปวดส้นเท้า ข้อเท้าแพลง (Ankle sprain) อาการชาแขน-ขาหรือฝ่ามือ, นิ้วล็อก (Trigger finger), อาการปวดร้าวลงขาหรือชาจากหมอนรองกระดูกทับเส้นประสาท (Herniated nucleus pulposus), กระดูกสันหลังเสื่อม (Spondylosis), กระดูกสันหลังเคลื่อน (Spondylolisthesis), ตึง ปวด ชา จากเส้นประสาทตึงตัว (Nerve tension), กล้ามเนื้ออักเสบเรื้อรัง (Myofascial pain syndrome), การบาดเจ็บจากการเล่นกีฬาและการทำงาน รวมไปถึงการฟื้นฟูผู้ป่วยภายหลังการผ่าตัด ด้วยวิธีการรักษาโดยใช้เครื่องมือทางกายภาพบำบัด (Modalities) หรือเทคนิคการรักษาด้วยมือ (Manual techniques), การรักษาด้วยการออกกำลังกายแบบพิลาทีส (Therapeutic Pilates exercise) และเทคนิคการรักษาเฉพาะ (Advanced Techniques) พร้อมทั้งให้คำแนะนำในการปรับพฤติกรรมและสภาพแวดล้อมต่าง ๆ ด้วยวิธีที่เป็นแบบเฉพาะทางนี้ จึงช่วยให้มั่นใจได้ว่าผู้ป่วยไม่เพียง แต่เข้าถึงสภาวะสุขภาพที่ดีที่สุดเท่านั้น แต่ยังสามารถรักษาความแข็งแรงเพื่อหลีกเลี่ยงการบาดเจ็บต่อไปได้ เรามีทีมนักกายภาพบำบัดที่ผ่านการรับรองใบประกอบวิชาชีพนักกายภาพบำบัด และมีประสบการณ์ด้านการรักษาในโรงพยาบาล รวมถึงการสอนพิลาทิส และการทำกายภาพบำบัดเพื่อการบำบัดฟื้นฟูอีกครั้ง
Physio Pilates Recover : Rehab : Prevent
Change happens through movement and movement heals
Our philosophy is simple, we believe in doing the most for the welfare of our customers is why we combine physiotherapy Pilates to help in the rehabilitation process and reduce localised in areas such as the back or pain due to problems of poor posture or due to pain the practice of sports.
This unique approach ensures that patients not only reach an optimal state of health, but can also maintain strength in order to avoid further injury.
We have a team of qualified physiotherapists nationwide with extensive experience in hospital treatments and combining Pilates and Fitness to re-habilitation therapy.
Disc degeneration Pilates Rehabilitation
---

Our physiotherapists experienced evaluate and treat customers through clinical treatments and exercise indicated that they understand the manual physical therapy, ultrasound, lumbar or cervical traction, rehabilitation of Pilates equipment (called Physio Pilates) and also to define a routine exercise when the customer gets home or office.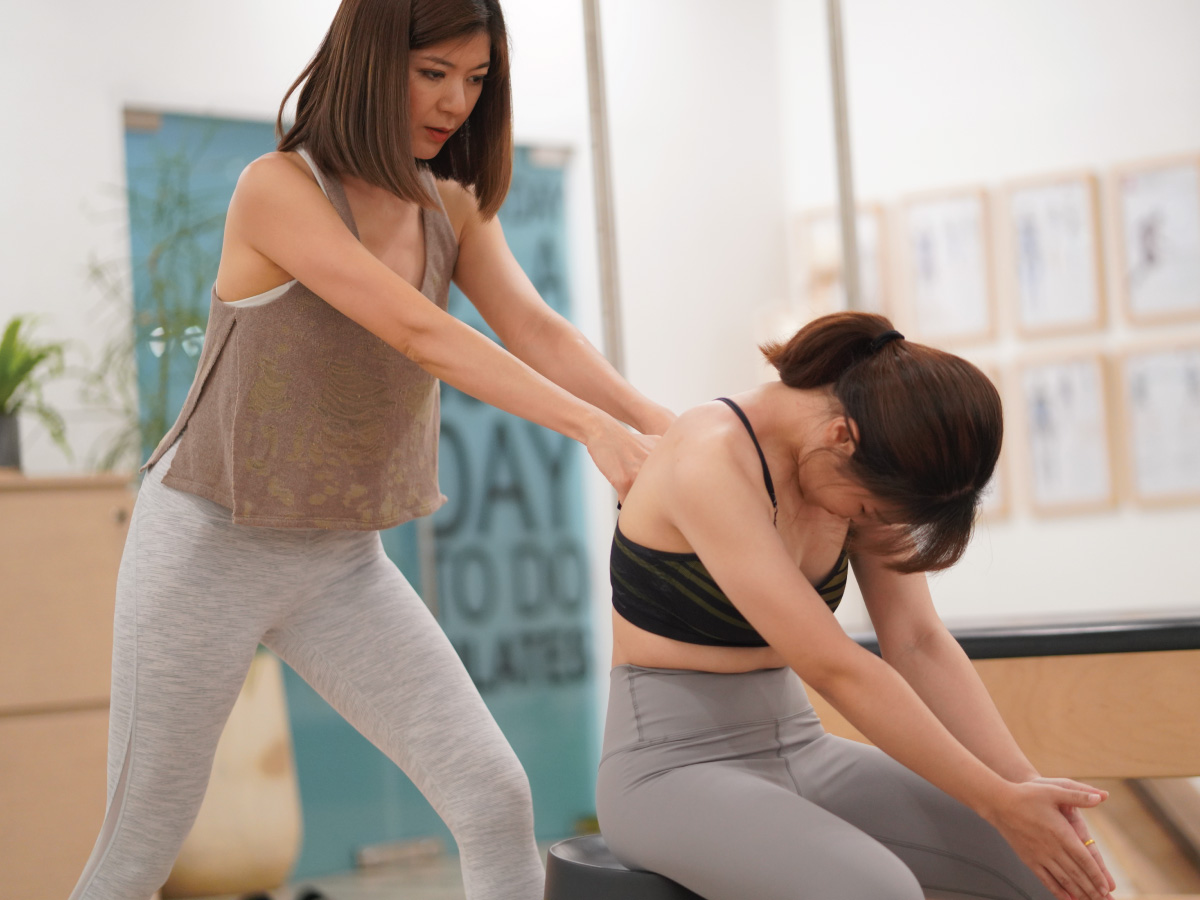 In our studio, Get Physiotherapist

FREE

consultation with our physiotherapists to define:
The physical problems that require treatment
The physical state of the client through an analysis Physio-Pilates
Create a link and supervision from the physio area with Pilates
Define joint programs that incorporate a practice of physio and pilates
Our approach is unique in Bangkok and provide the best results for someone who want to fit & form or someone who needs rehabilitation as:
Joints mobilization
Ultrasound & Laser Therapy
Myofascial Trigger Point
Posture Correction – Office Syndrome – READ MORE
Functional Therapeutic
Deep Tissue & Sports Massage
ROCKTAPE Taping
Prenatal-Postnatal Exercise
Pain-Free Program
Pilates For Foot Rehabilitation
Our Physiotherapist Team