พิลาทีส ตัวช่วยสุขภาพดีของคุณแม่ยุคใหม่
ยุคปัจจุบันสาวๆ ที่กำลังตั้งครรภ์ส่วนใหญ่หันมาออกกำลังกายกันมากขึ้น ไม่ว่าจะเป็นโยคะ ว่ายน้ำ โดยเฉพาะพิลาทิส สาวๆ ทั้งในไทย ต่างประเทศ และดาราฮอลีวูดให้ความสนใจกันอย่างมาก เช่น ฮิลลารี ดัฟฟ์ นางเอกเรื่องซินเดอเรลลาก็ออกกำลังกายด้วย พิลาทิส ในช่วงที่เธอตั้งครรภ์
พิลาทิส ถือเป็นการออกกำลังกายไปพร้อมทำสมาธิ มีความปลอดภัยต่อแม่ที่ตั้งครรภ์ เพราะมีการกระแทกน้อย การเคลื่อนไหวท่าทางต่าง ๆ เน้นความนุ่มนวล ต่อเนื่อง ลื่นไหลอย่างเป็นธรรมชาติ โดยการขยับเคลื่อนกล้ามเนื้อส่วนต่างๆ นั้นจะต้องผสานกับการหายใจเป็นจังหวะตามที่กำหนด ช่วยฝึกการหายใจเพื่อปรับสมดุลให้กับคุณแม่ตั้งครรภ์ และมีประโยชน์มากมาย ได้แก่
ช่วยสร้างความแข็งแกร่งให้กับกล้ามเนื้อโครงสร้างต่างๆ ของร่างกาย รวมไปถึงกล้ามเนื้อหน้าท้อง กล้ามเนื้อหลัง และกล้ามเนื้อบริเวณกระดูกเชิงกรานด้านล่าง กล้ามเนื้อทั้งหมดจะเป็นแรงพยุงตามธรรมชาติให้กับผู้หญิงที่ตั้งครรภ์ให้รู้สึก สบายและคลอดง่าย
การออกกำลังกายเป็นการรวบรวมพลังจากภายในสู่ภายนอกทำให้มีสมาธิ มีจิตใจมั่นคง อารมณ์มั่นคง ไม่แปรปรวน
การออกกำลังกายจะค่อยๆ ยืดกล้ามเนื้อช่วยลดอาการปวดต่างๆ ของร่างกาย เช่น ปวดหลัง ปวดแขน ปวดขาได้
ช่วยบริหารกระดูกอุ้งเชิงกราน ฟื้นฟูร่างกายเร็วขึ้น
Pregnancy Pilates Bangkok WARNING
There are many gestures and positions of Pilates we advise you not to try falling on pregnancy. For your safety and that of your baby, our trained teachers and graduates by Balanced Body Pilates recommend you avoid the following:
1. Stretching deep and prolonged, it could have consequences and injuries and should be strictly avoided.
2 Exercises supine -. These exercises require you to be on the back. During pregnancy your abdomen and rectus distance themselves, should be avoided to prevent further damage to this part of your body.
3 Deep Squats -. Especially not to do during the third quarter as it could have negative consequences.
Please ask at the first meeting of our professional teachers for pregnancy pilates Bangkok.
---
BENEFITS
The technique of Joseph Pilates aims to strengthen core strength toning your abdominal and pelvic floor muscles. As your baby grows, the extra weight requires you to provide more support to your abdominal, back and pelvic floor muscles.
Toning these muscles provides a more comfortable pregnancy pilates bangkok and delivery.
Due to changes in your body, your center of gravity to move, making it more difficult for you to stay balanced.
pregnancy pilates Bangkok has been shown to improve balance using the deepest layer your abdominal muscles to stabilize your spine and pelvis. Pilates also strengthens the abdominal muscles to relieve back pain that comes with most pregnancies.
In addition, Pilates is ideal for new moms who want to get their slender figure back! .
YouTube: please specify correct url
CAUTION catering
The beauty of pregnancy pilates Bangkok is based on its ability to be modified to meet the different trimesters of your pregnancy.
These adaptations of pregnancy pilates Bangkok help you achieve the purpose of the exercise with your body more. If done the right way, you are assured of a training session without risk of pregnancy if all nine months.
Firstly, it is very important that you inform the instructor of your pregnancy, and QUARTER you are in. It is for you and your baby's safety to ensure, as there are movements that you must avoid. As every pregnancy is unique, your instructor is able to customize the movements according to your abilities. It is also good to communicate with your instructor on the experience you have before, during and after your workout. This ensures the best possible workout for your body at every stage of pregnancy from the beginning.
Your body undergoes high levels of fatigue and lower blood pressure in the first quarter, due to hormonal changes. This hormonal change causes you experience nausea and additional fatigue your muscles and ligaments as your body tries to make you more flexible.
Exercises in the first trimester should be kept soft and relaxing to ensure you do not over stretch.
As your baby bump starts to show, the second quarter focuses on strengthening your muscles of the upper and lower back. Women in their second trimester are also taught to improve mobility in the lower part of the trunk, with toning the pelvic floor muscles. Strong pelvic floor muscles support the growing weight of the child while preventing urinary incontinence and miscarriage. It also promotes an easy delivery.
Entering the third quarter is a sign that you quickly move your due date. Pilates in the third quarter focuses on gentle stretches, arm exercises and breathing exercises (which you will find very beneficial during labor), while strengthening the legs and buttocks.
You will find Getting Involved with the exercise ball during this period. Using an exercise ball helps loosen joints and pelvic muscles in preparation for delivery. In addition to conditioning the abdominal area involved in childbirth, exercise ball offers relaxation, comfort and physical relief. Sitting on the exercise ball while working also spasms of childbirth less pronounced and more bearable.
ลงทะเบียนที่นี่ – Apply Now
[contact-form-7 404 "Not Found"]
3 Trials Normal Pregnancy Pilates Bangkok
Now
4,500฿

From 5,400฿ For The First Timer Only!

Please request an interview with our professional teachers specialized in pregnancy to assist your fitness and the program best suited for your comfort and welfare. We are open Weekday 8am.- 10pm. and Weekend 9am.- 6:30pm.

สถานที่: The Balance Studio อาคารอินเตอร์เชนจ ชั้น B2 ฝั่งเดียวกับ Terminal 21 เชื่อม Skywalk จาก BTS อโศก ทางออกที่ 6 และ MRT สุขุมวิท ทางออกที่ 2
สิ่งอำนวยความสะดวก: ห้องเปลี่ยนชุด ล็อคเกอร์ ที่จอดรถ FREE 2 ชม.
สตูดิโอเปิดบริการ: วันจันทร์-ศุกร์ เวลา 7:30-22:00 น. วันเสาร์-อาทิตย์ เวลา 8:00-18:30 น.

สมัครเรียนได้ 2 ช่องทาง คือ
1. Walk in ไปที่ The Balance Studio ตามที่อยู่ข้างต้น
2. โอนเงินสมัคร เพื่อใช้สิทธิจองคลาสเรียนก่อนเข้ามาเรียนได้เลย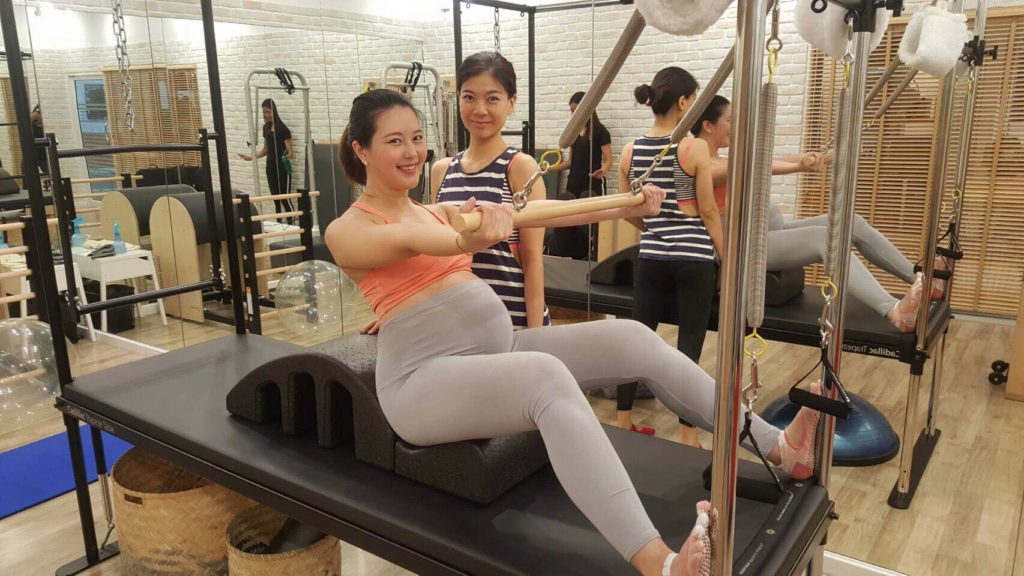 ---